Friday, June 16, 2006
And because I know you're already fans, click here to subscribe to the podcast via iTunes.
Analogcabin @ 1:36 PM
Permalink |
-------------------------

Thursday, June 15, 2006
The podcast has arrived.

Click to purchase Elliott Smith's "Kiwi Maddog 20/20."

Click to purchase Grandaddy's "Away Birdies."

Click to purchase an Acetone song that's not the one included, that being their cover of "Juanita" off of I Guess I Would.
Analogcabin @ 7:48 PM
Permalink |
-------------------------

Tuesday, June 13, 2006
President George W. Bush has returned to the battlefield, presumably to appear publicly with Zarqawi's head on a pike beneath a banner reading "Mission Accomplisheder."

I don't know about you, but I'm happy to have won the War on Terror. Especially since we did it in time to bring our troops home for the premier of "Hell's Kitchen."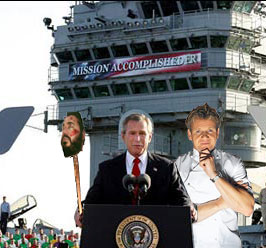 Analogcabin @ 11:17 AM
Permalink |
-------------------------

Monday, June 05, 2006
This weekend I watched a documentary called Guerilla: The Taking of Patty Hearst. Because I am a mature appreciator of the arts, my feelings on the film were complex. On one hand, I liked it. On the other, I didn't like it.

I liked it because people in the 1970's talked funny. They sound as though they were transported from the "gee whiz, see?" 1940's into an era full of "hip,"s "crazy"s, and "motherfucker"s without any instruction on how exactly to use those terms. Or perhaps a better explanation of what I mean would be an analogy:

Me Talking : Me Talking Black :: 1940's People Talking : 1970's People Talking

Does that make more sense? Probably not, because I don't know if I constructed the analogy correctly, but whatever.

I didn't like the movie because when relating Hearst's post-arrest version of her time in the SLA, the one in which she claimed to have been administered LSD against her will, it incorported obnoxious video effects like those used in "Bark at the Moon" era Ozzy videos.
Analogcabin @ 5:15 PM
Permalink |
-------------------------

Thursday, June 01, 2006
DC Comics today announced that the character Batwoman is being resurrected, and that this time she'll be a six-foot-tall lesbian. Some might think the choice is an odd one, especially since lesbians tend to want nothing less than a bat near their caves, but DC's executive editor Dan DiDio seems confident that they're telling a great story with a strong, complex character.

"We are confident that we are telling a great story with a strong, complex character," said DiDio.

So in celebration of the potential for lovingly drawn images of voluptuous women practicing ninjitsu on one another's spandex-clad clitori, or for those images being accompanied by the onomatopoetic caption "SLUUURRRP!", I give you the below list of The Spoonbender.com's Suggestions for Lesbian-Themed Items for Batwoman's Utility Belt. Enjoy.

The Bat
The Strap-On Bat
The Batbrator
The Pocket Batbrator
The Double-Headed Bat
The Bat with Anal Bat-Tickler
The BatCarpet Muncher
The BatDonut Grinder
The BatUgly Bumper
The BatDyke Plugger
The BatDog Groomer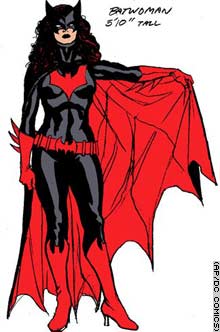 The new lesbian Batwoman's costume, above, has been revised slighty. The original was a boxy suit and Abercrombie and Fitch baseball cap.
Analogcabin @ 11:41 AM
Permalink |
-------------------------