Friday, July 29, 2005
Yet another Boy Scout troop was hit by lightning today, killing the leader, critically injuring one of the scouts, and raising serious doubts that any members of the national organization are taking the whole "Be Prepared" thing very seriously. Ever heard of shelter? Lightning rods? Rubber boots?

The incident also raises some serious questions about God, and whether He's a fan of the group's gay-unfriendly, pedophile-friendly policies.
Analogcabin @ 4:30 PM
Permalink |
-------------------------

Thursday, July 28, 2005
Glass is half empty people might look at the monsoon rains flooding India and think only of the approximately 500 people killed. Glass is half full people like me think of the millions of Indians badly in need of a rinse-off who are finally getting it.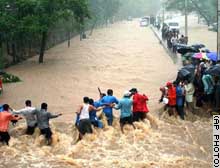 As Indians struggle with the record rains drenching their country, the UN is airlifting in badly needed soap.
Analogcabin @ 2:27 PM
Permalink |
-------------------------

Those of you familiar with my feelings about the Bush administration might be surprised to learn that I was relieved to read this headline: Roberts Documents Reveal a Conservative.

It's not because I've had a change of heart about issues like privacy, choice, or the right to, like, take a shit without fear of being hauled off by stormtroopers, it's because I wouldn't have been at all surprised if the documents had revealed he was a Klan Grand Dragon, facist, baby-eating welfare reformer with a barbed penis.
Analogcabin @ 2:21 PM
Permalink |
-------------------------

Wednesday, July 27, 2005
There are plenty of examples to which critics of the American justice system can point when arguing that an accusation is enough to condemn a person in practice, but I don't think any illustrates the point more clearly than a retardation trial. It's a lose/lose situation. If you're guilty, you're retarded. If you're innocent, you're really close to being retarded. The fact that a trial was required to make the determination, or that it even got past the grand jury is pretty much enough to put you in the social jail that is being retarded for life.

Daryl Atkins, for example, is the man whose trial is detailed in the story above. His stupidity undeniable, and yet people are so torn on whether he is actually, technically retarded that it's gone all the way to the Supreme Court. Win or lose, he loses. And we all had people like Daryl in our high schools. They were in gym class, usually, or lunch. They'd be the butt of endless jokes, and their retardation would be the subject of heated debate. No matter on which side of the issue you fell, you probably didn't hang out with them. The fact is that you simply wouldn't associate with a person who was even accused of retardation, guilty or not.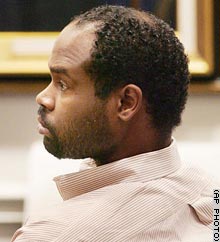 Daryl Atkins, above, is unbelievably dumb until proven retarded.
Analogcabin @ 4:29 PM
Permalink |
-------------------------

Analogcabin @ 3:31 PM
Permalink |
-------------------------

Tuesday, July 26, 2005
I guess we still don't know the answer to the comedic query, "How many Boy Scout leaders does it take to screw in a lightbulb?"

Or maybe we do.
Analogcabin @ 2:11 PM
Permalink |
-------------------------

Monday, July 25, 2005
In the wake of the recent bombings in London and Egypt, I know a lot of people are wondering how a few men armed only with fertilizer, egg timers, backpacks, and moustaches and who were trained by a guy who lives in a dune can consistently stymie some of the most highly-trained and well-equipped police and intelligence forces in the world. Well, I'm here to say that I share your wonder, my friends. But the difference between you and me is that when I wonder, I do serious research. I go to the library. I contact officials and experts. I don a many-pocketed Orvis vest and go undercover. I scour Wikipedia and Google, and I turn my wonder into your delight. When you wonder, you do nothing more than aim your internets at The Spoonbender, and who can blame you.

Take this morning's news that Egyptian police have released photos of suspects in last week's bombing in Sharm el-Sheik, for example. The photos are below.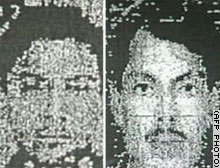 So for those of you wondering how to stop these guys, these are the results of my research: Winning the war on terror is not about uniformed officers on the streets, and it's not about covert ops manpower infiltrating terrorist cells. It's about upgrading from dot matrix to an ink jet, or even a laser. The bottom line that that, while today's modern ink jet printers can run as high as tens of dollars, they provide the resolution required to say with certainty whether or not your suspects are, for example, black or white.

That said, based on the images released, I've concluded that the men pictured are, from left to right, future hall of fame slugger Jose Canseco and Cu Ba Nguyen, who played Jimmy Wah, the fey owner of Jimmy Wah's, in Good Morning, Vietnam.
Analogcabin @ 10:24 AM
Permalink |
-------------------------

Friday, July 22, 2005
Recently I've been providing you invaluable insight into my personal entertainment preferences, and I've decided that today I'll continue the trend by unveiling a little something I'm calling The Spoonbender Presents My Five Favorite Movies of All Time, July 22nd Edition. Don't expect to understand my choices, as they are very high level. My intellect is vast nearly and my tastes are extremely refined. But by all means try. It is the weekend, after all -- the perfect time for renting a few DVD's, cracking an ice cold 40 oz. Crazy Horse, and cuddling up with your sweetums' rectums.

5. Meeting People is Easy
Number five is a tough slot on any Top Five list because it's the last one filled. There are so many contenders for the spot and, while they're not your favorite, it's difficult to settle on one. Lesser men would list them here, but that's a cop out and I'm not a lesser man. I settled on Grant Gee's 1999 documentary on Radiohead's tour behind their breakthrough record OK Computer for a number of reasons. I'm a big fan of the rock band documentary genre, generally speaking, but this one stands head and shoulders above all others -- I Am Trying to Break Your Heart, The Last Waltz, Woodstock, The Kids Are Alright.... Only The Song Remains the Same comes close, and not very. A lot of music documentaries attempt to make the audience feel "what it's like," but it takes more than backstage footage and shots out at the audience from the stage. Meeting People Is Easy is about the insulated surreal world in which bands like Radiohead live while on tour, and it's a little disconcerting.

4. The Falls
When people talk about "mockumentaries," they usually say 1984's This Is Spinal Tap was the first. In a way, I suppose it is. But in 1980 Peter Greenaway released a fake documentary-style comedy called The Falls. It's a far cry from anything Christopher Guest has done, but it's hilarious in its own very dry, very absurd way. It's just over three hours, but that just adds to the utter weirdness of it.

3. Almost Famous
Now, I know you're all probably going to take this opportunity to mock me. Go ahead. If loving Cameron Crowe's very personal, very touching rock and roll coming of age masterpiece is wrong, I just don't want to be right.

2. The Life Aquatic with Steve Zissou
That this film wasn't as well received as either Rushmore or The Royal Tennenbaums is criminal. Objectively speaking, because I can even when talking about my preference in art, this movie is more funny, more touching, and more fancifully shot. And if there are three things I love in a movies, they're funny, touchy, and fancy.

1. Sherman's March
This film was intended, by the director and some of those paying for it, to be about the lingering impact of General Sherman's destructive march through the south. But a breakup just before filming begins results in months of McElwee staying with his parents and crashing on couches around the south, filming himself and his friends, and musing about life and love. My description does the movie no justice. Just trust me.
Analogcabin @ 2:26 PM
Permalink |
-------------------------

Thursday, July 21, 2005
Summer is an exciting time for me, and not only because it gives me the opportunity to "adjust the bass and let the Alpines blast" Will Smith's infectious anthem "Summertime." I love summer because it's the time of year when the networks air all of the reality shows they don't want to taint quality scripted shows on the Fall schedule such as The King of Queens. Because, you know, he lives in Queens but he's not like a King at all... not even of his house, so it's a little turnabout! Ah, comedy....

Anyway, for one reason of another I feel compelled to share with you my thoughts on a couple of this summer's reality shows, and so without great fanfare I give you The Spoonbender.com's Summertime Reality Bytes, because, you know Reality Bites was a horrible Ben Stiller movie, the thing is about reality shows, and bytes have something to do with computers, which is the instrument allowing you to delight in this and me!

Dancing with the Stars
The fact that I enjoyed this show surprised me. I'm no fan of ballroom dancing, the costumes the women wore were, while undeniably skimpy, somehow too laiden with support hose and sequins to be particularly erotic, and the dancing wasn't bad enough to deliver any of the laughs you'd get from other people-falling-down-while-trying-to-do-something shows like America's Funniest Home Videos. What the show did deliver were facial expressions. I challenge any man to stare into the face of Evander Holyfield while he's trying to cha-cha-cha and not smile. It was like watching a toddler try to hold in diarrhea. Or look into the New Kid on the Block's face as he's scolded by the judges yet again. It's the kind of thinly veiled rage, incredulousness, and magnificent frustration only possible in a child star reduced to the ultimate humiliation, the absolute nadir of show business. Or look at the smile on John O'Hurley's face. Sure, he was playing it up, but he was in on the joke and obviously having a lot of fun. Despite my cynicism, I found his attitude to be infectious.

Hell's Kitchen
Chef Gordon Ramsey is the Trump reality show archetype taken to it's logical extreme, only because I don't expect to see a host who elimates contestants by viciously raping them, and then showering them in offal to be on screen in America anytime soon. He's insults and berates the contestants with fuck-strewn epithets, throws food at them, and insists they respond by saying nothing more than "Yes, Chef." But he's not intentionally funny. The single greatest thing about the show is how he pronounces words like lasagna ("lass-san-yeah"), paella ("pie-ell-ah"), risotto ("ris-saught-oh") -- with that uniquely English refusal to acknowledge that any word is taken from another tongue.

Rock Star: Inxs
This is probably my favorite reality show of this summer, and I'd expect I'm not the only person in my demographic to feel that way. The reason is this: it's essentially American Idol, but watching it doesn't make you feel like an 11-year-old girl or the kind of person who wants to put 11-year-old girls into his cargo van. That's not to say there is no illicit joy in watching the show, but the biggest concern you've when you want to sleep with Daphna Dove is VD, not the PD. Additionally, the songs contestants perform are the kind of thing you'd find on classic rock radio, so I think the barrier of entry for old folks is less. That is to say, you don't have to know any Usher songs to make a judgment on whether the performance sucked.

But my favorite thing about the show is the prize -- the winner becomes the lead singer of Inxs. I mean, what a horrible fucking prize. There are a few people on there who were obviously musical theater performers before the show -- Mig and Ty Taylor, for example -- and I'm sure they'd love fronting Inxs as much as they would touring in Pippin. But can you imagine Brandon, Daphna, Jordis, or Marty in that band singing "New Sensation" at some outback Cookabooga county fair night after night? They'd blow their fucking brains out.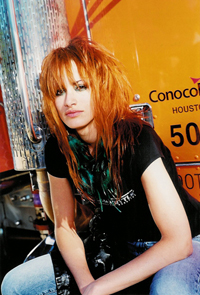 Daphna Dove, above, is happy to be on TV and everything, but really can't get into any Inxs, except "The Devil Inside," and that only kind of.
Analogcabin @ 10:44 AM
Permalink |
-------------------------

Wednesday, July 20, 2005
There are those who will scream Chinatown when I say it, but for me nothing says Roman Polanski quite as much as the embarassingly awkward striptease scene in Bitter Moon.

For those of you lucky enough to have avoided the movie, it's about how a crippled Peter Coyote can be forced to watch the marginally attractive but thoroughly untalented wife of a director flounce around a cruise ship at night. In the scene to which I referred above, Coyote is tied to a chair, necessary only because I think at this point in the film he's not yet been crippled. His famed trustworthy whisper, now heard on every extra-governmental investigation show on television, is silenced by duct or some other variety of tape. Emmanuelle Seigner, in her second major movie role payoff for agreeing to marry a man who lives by the rule "If there's grass on the field, don't play ball," then undertakes the most overwraught, pretentious modern dance striptease I've ever had the misfortune of seeing. And believe you me, I've seen a few. She looks like an epiliptic Twila Tharp in a raincoat and thigh highs trying to fight her way up a greased half pipe after three roofies. I wanted to crawl out of my skin when watching it, and I can put up with pretty much anything that results in a naked lady.

Of course I'm against statutory rape, but I have to admit that my delight in any negative publicity Polanski receives stems at least as much from his sex crimes as that cinematic one.

And so it is that I bring this to your attention. For those of you who haven't heard, Polanski is suing the publishers of Vanity Fair for a story they ran in 2002 claiming that he made "tasteless and vulgar" advances on a Scandanavian model shortly after his wife, Sharon Tate, was murdered. Lewis Lapham, editor of the magazine, took the stand to relate his recollection of the events.

"Mr. Polanski pulled up a chair between myself and Beatte Telle and began to talk to her in a forward way... began to praise her beauty, romance her. At one point he had his hand on her leg and said to her 'I can put you in the movies. I can make you the next Sharon Tate.'"

It's a line that obviously begs the response, Dead?, and is worth laughs on its own. But Lapham then slammed the mole-faced midget with this zinger:

"I was impressed by the remark, not only because it was tasteless and vulgar, but also because it was a cliche."

And how.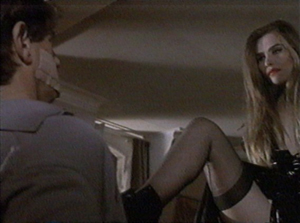 Peter Coyote, above, doesn't know whether to be aroused or massively resentful of having to pretend to respect the "talents" of a pair of tits on feet.
Analogcabin @ 9:09 AM
Permalink |
-------------------------

Tuesday, July 19, 2005
The fucking leech lawyer hired by Elba Cruz -- the woman who got her ass whooped in a game of hide and seek by her son and two friends -- today claimed that the three boys were alive for "13 to 33 hours" while police searched for them. This, leech Peter Villari says, puts the blame for the deaths of the trunked trio squarely on the shoulders of police.

But before I continue with that tale of woe, allow me to digress for a moment into a seemingly unrelated topic. Don't fret or become confused, however, because I'll masterfully weave them together in a later paragraph.

Since I returned from vacation, there's one question I've gotten more than any other: How about that Valerie Plame? I'd go to Niger for her any day! Covert operative? More like covert HOTperative! The question I've gotten more than any other except that one, which is really more of a rhetorical question than an actual question, anyway, is this: So what's on your summer reading list, Mr. Awesome?

Funny you should ask. I actually have one this summer, and it goes beyond my usual copy or two of Leg Show. Nor does it include Harry Potter and the Saucer of Quagenbush or whatever it's called. While on my vacation, I read the first book on my list, which was coincidentally the last book on my list -- Evan Wright's Generation Kill. It's the account of a reporter character named "Evan Wright" who was embedded with the Marine First Recon batallion during the invasion of a kingdom called Iraq. But get this: it's not even one of those made-up pretend books -- it's real-lifey.

Generation Kill isn't really a political book, though readers on either side of the issue could find plenty in it to support their various and stupid opinions of the war. At it's core, it's character study of a group of five or six young soldiers and their reactions to the events of the invasion and the days following it. There's also a great description of a man pooping his pants in it. I hate books because reading is for chumps, but I loved it and suggest you pick it up, even if it's only to read it.

So how does this relate to the other story? I took me between 13 and 33 hours and, though I'd guess the Bahamian weather was roughly as stifling as being locked in a car's trunk, reading the book was way more fun.
Analogcabin @ 2:58 PM
Permalink |
-------------------------

Monday, July 18, 2005
Breathe out, America, and unzip your flies.

While I can imagine the eternities you've all lived over the two weeks of my absence, I'd be lying if I said that my time away from you was anything short of bliss. And bliss not only for me, but for the many tourists who were treated to the sight of my lithe, powerful body lacquered to a brilliant sheen by the crystal Caribbean waters and tanned golden by the bright, hot sun. And bliss not only for them, but for the darkest of dark locals given the distinct priviledge of attending to my many needs. From Nado, who so cheerily blended bananas, ice, and various rums into a beverage of my choosing, to Tracy... especially Tracy, whose well-trained hands kneaded, stroked, and chopped at the body that stars in the most secret dreams of so many. And to have been paid for the delight. Why, it's almost too fantastic to imagine, even for me, and I was there.

But I am back, refreshed, and ready to slake your thirst for my comedy juice. Before I commence slaking, however, I'd like to thank WULAD's "Ian" for tending you while I was gone. I'm sure we all agree that there's really no substitute for me, but "Ian" certainly earned his The Spoonbender t-shirt. And his girlfriend her The Spoonbender panties.

So much has happened since I was gone, I really don't know where to begin. There was hurricane Dennis, its associated coverage, and subsequent "skewering" by The Daily Show. Now, if you're like me, you don't watch The Daily Show unless you're on vacation in the Bahamas and are very drunk. Maybe it's because it's on so late at home, or it could be because you're so much funnier than it is, and watching it since Kilborn left is like watching Dana Carvey on Saturday Night Live. Regardless of the reason, the bit in which Stephen Colbert is strapped to a chair and watches "overblown" hurricane coverage felt to me like getting raped by a man with Down's Syndrome -- it took too long to accomplish something conceived by an idiot, and was downright unenjoyable.

Then there was the London bombing. I want to be the first person to say these acts of cowardice will not stand, and that my thoughts are with the victims of the terrible tragedy. For example, these girls. That horrible, dusky villains felt justified to take away these girls' vacation is objectionable enough, but to have left them with flashbacks is even worse. Never again will these two be able to enjoy a lover warning them to mind their gaps before exploding in their tubes.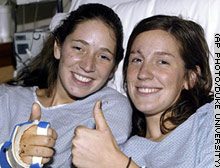 The Benton sisters, above, flash the universal sign for "They might have taken my foot skin, but they didn't take my acne!"
Analogcabin @ 1:18 PM
Permalink |
-------------------------

Friday, July 15, 2005
And so our time together has come to an end. Monday, assuming customs officials forgo a body cavity search and fail to notice the opium-filled Tiki statue hidden in his most secret of places, the Genuine Spoonbender will be back at his post, and I will have returned to my regular duties, where the sun is always shining and I hardly ever get called a desperate hack. And thus will close a proud, if gooey, chapter of my life.

Before bidding you my final farewell, I'd like to thank the proprietor of this site for giving me the opportunity to unleash my inner bastard to an extent not generally reached on my own watch. (By the way, I'm not one to look a gift horse in the mouth, but those girls you sent over to "help" me all had bad breath, and penises.)

To the audience, I say only this: I'd like to think that at some point during these two weeks of gentle, legally defensible banter at the expense of ethnic caricatures, protestors of indeterminate gender, small-bootied murderesses, celebrity flu-sufferers, smelly hippies, smarmy hipsters, illiterate rednecks, the President, the Pope, Turkish sheep-molestors, baby-eating Croatians, the Hated Author of the Spoonbender, Dave Eggers, Chief Wahoo, fishy vaginal odor-victims, CIA-identity leakers, Ultragrrl, Jamie Farr, and myself, there came just one brief moment when you, the readers, and I, the guest-blogger, looked into each other's virtual eyes... and our disparate minds became as One.

If not, up yours.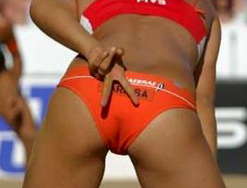 I leave you with the universal Spoonbender salute.

Ian @ 3:43 PM
Permalink |
-------------------------

I read a story today, the sadness of which gave me pause; for even though barely a week has passed since I spun tragic carnage into comedy gold, there are some topics which can cause the most cynical of pundits to think twice about cracking wise. However, this is my last day at The Spoonbender, so I must offend now, or forever hold my cowardly peace.

I'm speaking of the charming Oklahoma woman who gave birth to a baby after consuming a case of beer (Shlitz? Meister Brau? This could be of vital medical importance), and said she regularly drank during her pregnancy.

The tragedy is that the child--drunken, uneducated, and possibly retarded--may never have the chance to grow into adulthood in the very location, Oklahoma, where those qualities are most valued.

In other depressing news, the Chinese, who are rapidly losing the political capital they accrued by inventing fireworks and spaghetti, announced yesterday that they were prepared to launch nuclear warheads at the United States in the event of a conflict over Taiwan, prompting U.S. officials to respond, "Tai-who? You all look the same to us."

Ian @ 8:38 AM
Permalink |
-------------------------

Thursday, July 14, 2005
God bless San Francisco, I said to myself yesterday.

(And by "God," I of course mean whatever conception of the universal deity or natural force, including the lack of such deity or force, to which you may personally subscribe, up to and including the bizarre fire-breathing ethnic she-demon to whom your particular snake-charmer relatives may dedicate their burning incense and goats. Whatever floats your boat, you know.)

The inspiration for this blessing? Was it the tediously wonderful weather, you wonder? The near-absence of Republicans, at least ones willing to loudly proclaim themselves as such? The tolerance, bordering on boredom, for public displays of pansexual perversion? The friendly hobos and their hilarious psychotic schizoid disorders? The fun-loving, rampaging Anarchists? The endless Viagra parties at Dave Eggers's place? None of the above, although I do love those things.

Here's what inspired me to utter those words: an article (called to my attention by my significant other) in our very own S.F. Chronicle, which is the journalistic beacon of the Bay area, and has been since the Examiner was turned into a sort of spineless New York Post-wannabe by a group of heathen Chinese or something.

The topic of this article: Why Emeryville smells so damn bad. (For those unfamiliar with the area, Emeryville is just over the Bay Bridge from our fair city, and greets those passing over its freeways with a cloud of noxious funk rivaled only by such East Coast highlights of olfactory odiousness as the Gowanus Canal and the bathroom at CBGB's. For those who have neither New York nor San Francisco as a reference, I can only ask you to imagine something that smells really bad. This is like that bad-smelling thing.)

But wait, that's not the good part (although it's not bad). The good part is not even that the article contains the quote, "The new arrivals have no idea... they smell poop and they freak out."

The good part is the ad which magically appears at the bottom of the article.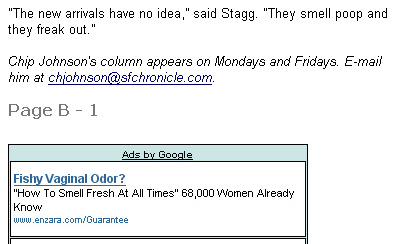 I know, this has more to do with Google's ad-placing technology than any quality of the city in which it was published, but I sense Providence at work.

Ian @ 8:19 AM
Permalink |
-------------------------

Wednesday, July 13, 2005
If I can be said to have a weakness in the area of biting satire and social commentary, it's that I can't quite motivate myself to make light of a racist lynching*, even if the victim's name was Butt.

[*I know what you're thinking: what about the much more deadly hate crime you made light of last Thursday, you hypocritical bastard? I don't know. White guilt or something. Talk to my lawyer.]

However, in other Butt-related news, a Brooklyn woman was acquitted of manslaughter charges yesterday after she allegedly murdered her husband for making disparaging remarks about the size of her butt. But here's the twist that makes this story unmistakably Brooklyn: he was complaining that her butt was too small.

Ian @ 8:58 AM
Permalink |
-------------------------

Tuesday, July 12, 2005
I'd have to say that if there is to be one person who single-handedly unleashes, Typhoid Mary-style, the dreaded Asian Bird Flu pandemic on the Western hemisphere, there is none more deserving of the job than Brad Pitt.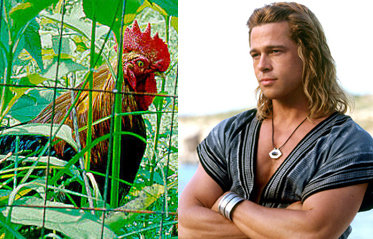 Illicit bird-love gone wrong? Jennifer's gonna be so steamed!

Ian @ 1:58 PM
Permalink |
-------------------------

Monday, July 11, 2005
Worksheet: Possible Fodder for Today's Spoonbender.

Topic: Karl Rove outed CIA agent.
Pros: Obligatory fat/bald joke. Double entendre featuring "leak." Something about his girlish squealing.
Cons: Enough with the politics. Idealistic outrage threatens to tear apart the very fabric of our jaded readership and so on. Jokes probably exhausted on the Daily Show months ago.
Verdict: Pass.

Topic: 450 sheep jump to their deaths in Turkey.
Pros: Whole bestiality angle: imply that they'd do anything to get away from the inappropriate touching of Farmer... [Look up Turkish name. Possibly that guy with the website who "kiss you!"]
Cons: Too obvious. PETA protests. "...Doth protest too much" comment possibility.
Verdict: Eh.

Topic: Trip to Sacramento this past weekend.
Pros: Backwards hillbilly jokes always gold. Something about Arnold. That picture of me with the stuffed animals that C-Baby thought was so gay and hilarious.
Cons: Clues could reveal my secret identity. Avoid giving more ammo to gay rumors. Nobody cares about what happens in Sacramento ever since the World League of American Football folded and Tesla broke up.
Verdict: Nah.

Topic: Colin Hay show last week.
Pros: Would be almost like one of those popular blogs where hipsters write about all the happening indie shows they've been to. Possible joke about how Hated Author of Spoonbender turns into doe-eyed huggie bear when Joanna Newsom is mentioned.
Cons: Would be almost like one of those popular blogs where hipsters write about all the happening indie shows they've been to. May cause Ultragrrl to start calling me again.
Verdict: Skip it.

Topic: 15-year-old Michelle Wie misses the cut on the PGA Tour.
Pros: [Raises one eyebrow.]
Cons: Conditions of my parole. Confirm C-Baby's worst fears about me.
Verdict: Maybe later.

Hm. No Spoonbender today, I guess.

Ian @ 8:58 AM
Permalink |
-------------------------

Thursday, July 07, 2005
There are some who would say that there is no place for ironic detachment and cynical humor on a day like today, when innocents have died and a nation of fellow whiteys has been shaken to its core. I have a one-word response to that argument: resolvance.

While watching the G8 press conference with my significant other (known on my regular website as "C-Baby"), she directed my attention to our own president, standing behind the right honorable Mr. Blair. "Look at him," she said. "Doesn't he look like he's trying to look really serious, like a kid at a Christmas concert? It's like watching America's Funniest Home Videos--you know he's about to make a funny face or something."

It was true. However, my theory was that he was thinking, "Can I get in the plane yet? How 'bout now? Which way is the bunker?" (And no, I don't think I would look much better under the circumstances, but then I'm not the leader of the free world. Yet.)

He did have some thoughts on the subject, of course: "The contrast couldn't be clearer between the intentions and the hearts of those of us who care deeply about human rights and human liberty, and those who kill, those who've got such evil in their hearts that they will take the lives of innocent folks." Because, you know, Bush would never order any action that took the lives of innocent folks. But that's neither here nor there.

Additionally, our local affiliate mentioned that the new Pope had condemned the attacks. Which was a relief, since, you know, he's new, and for all we knew he might have said, "I strongly support these terrorists! Go Al Qaeda! Death to the Infidels! [Ululates loudly.]"

Anyway, I thought I'd check in with the usual America-hating (or in this case, United Kingdom-hating) liberals to hear all the calls for therapy and understanding for the attackers that Karl Rove was talking about recently. Here are some of the great quotes I found:

"If these misunderstood souls had access to universal health care, this would not have been necessary! Free Mumia!"
-Starchild Q. Guevara, Berkeley

"A visit to a certified Reiki practitioner could have averted this disaster. All of you who eat cooked food have blood on your hands today!"
-Azrael McHairypits, Marin County

"This is a direct result of the legacy of patriarchal male hegemonic colonialism. U.S. out of my uterus!"
-Allen Ginsberg X, Jr., Greenwich Village

"My heart goes out to them blowd-up fancy-talkin' sissy-boys. Just goes to show that Homeland Security money they done used for the bomb-sniffin' dogs at the grain elevator was well-spent."
-Zebediah Z. Greenjeans, Topeka

Let it never be said that we here at The Spoonbender--you thought I was going to say WULAD, didn't you?--don't have our fingers on the pulse of America.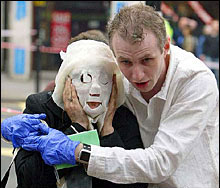 If we were heartless and insensitive, this photo might have a caption like, "This is no time for craft projects!"

Ian @ 8:59 AM
Permalink |
-------------------------

Wednesday, July 06, 2005
OK, that's it--this is the last God damn one of these Bush/bush references allowed, anywhere. There shall be no more. No more bumper stickers, t-shirts, panties, whatever. We get it. "Bush," like the president, as opposed to "bush," like vagina. It wasn't that funny to begin, with--years and years ago--but now it's downright pathetic.

Not to mention that this particular version doesn't even make sense: the only Bush you believe in is your own? You believe in your own vagina? Is it really necessary to proclaim this publicly, or are you trying to overcome your own doubts about your vagina's existence? (And the "in" seems to have been added late, as if the sign originally read, "The only Bush I believe is my own," which suggests that this woman's vagina tells her things, perhaps giving her instructions on how next to make an ass out of herself.)

To top it all off, this protestor looks suspiciously like a man in a dress. I mean, I suppose he could be referring to his girlfriend as his "bush," but that's a little crass, even for this page.

So, that's a big fat F-minus for you, Mr. or Ms. Protestor--you are a discredit to legitimate Bush- or bush-bashers everywhere. And the next person who tries to make a Bush/bush reference is condemned to spend the rest of this presidential term listening to the complete works of Kate Bush, as performed by Laura Bush, on infinite repeat.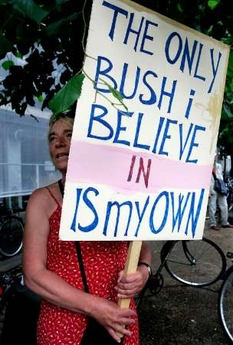 Read my "lips": No new Bush/bush jokes.

Ian @ 4:44 PM
Permalink |
-------------------------

One of the attractions that keeps discerning readers coming back to this website, I believe, is that aspect of The Spoonbender's humor relating to the ever-sensitive issues of race, religion, gender roles, and ethnicity, both here in the United States and in the darker places of the world. Specifically, I think the educated fans appreciate our host's reluctance to pull punches in this delicate area.

"Just because I use the term 'Jew-boy,' or 'hapless savage,' or 'magic-underwear-wearing inbred polygamist plate-worshipper,' does that make me intolerant?" our host seems to ask, "Or merely the voice of your own uncomfortable thoughts?" I leave you to answer that query yourself.

However, it is reasonable to wonder whether I, a relative lightweight in the hate-mail-generating field, will be able to maintain the sort of discourse, or rather, monocourse, that visitors of this site have come to expect. I believe the answer to be yes. Yes, I can. You gene-pool-diluting bastards! (How was that?)

But before I wade confidently into these dangerous waters, I thought it prudent to test out a little of my "off-color" humor to find out if it indeed is up to the task. So I've prepared a representative sample for your perusal. Here are a just a few of my delightfully "politically incorrect" jokes which I think you'll enjoy:

Q: How many Samoans does it take to screw in a lightbulb?
A: Usually one.

Q: What do you get if you cross a black guy with a Mexican?
A: A person with a rich cultural heritage.

Q: What's the fastest animal in the world?
A: After some research, it was determined that the Peregrine Falcon is in fact much faster than a dog in Vietnam, reaching speeds of up to 200 miles per hour during vertical dives.

Q: What do you call a Jew at a Ku Klux Klan march?
A: Officer Goldstein.

Q: What does "PONTIAC" stand for?
A: Pontiac is not an acronym; the name comes from an 18th-century Ottawa Indian chief.

Q: Why does the new Polish Navy have glass-bottom boats?
A: Most ships in the Polish Navy do not have glass bottoms; the few that do are used for oceanographic research.

Q: How do you get a Jewish guy to spend money?
A: It would be difficult! They're notoriously stingy!

Q: Why did the Croatian cross the road?
A: To eat Christian babies!

Q: Why did the Gypsy cross the road?
A: Again with the Christian babies!

OK, I admit I ran out of steam a little at the end. But I think you'll agree that I'm off to a great start, and with some practice I'll have everyone laughing irreverently faster than an Asian-American fire drill.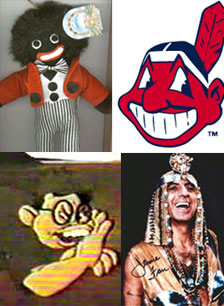 Just a few satire of the satirical people who satire helped me with this satirical piece of satire.

Ian @ 8:58 AM
Permalink |
-------------------------

Tuesday, July 05, 2005
Hello.

This is not the Spoonbender speaking.

The Hated Author of the Spoonbender (or Anderson Cooper, or Lou Dobbs, or Analogcabin, or any of a thousand other monikers he goes by) is currently somewhere over the Great Sea en route to sunny climes, where he will relax on tropical beaches, surrounded by smiling natives and witch doctors, whose dulcet voices will lull him gently to sleep with songs of kidnapped American floozies and outsourced tech jobs. He plans to remain in those happy climes until July 15th, or until he is nominated to the U.S. Supreme Court, whichever comes first.

In the interim, I, Ian, or "Ian," as this site's proprietor likes to call me, will be the Master of Ceremonies in the Hated Author's stead. You may know me from my own moderately entertaining website, Wrapped Up Like a Douche, which has somehow managed to avoid being nominated for every major website ass-kissing award for a third straight year, despite bearing the prestigious title of "Home of the Sausage McMuffin with Bacon."

Now, having been a frequent visitor to this site in the past, I feel I have a good idea what you, the loyal readers, have come to expect; and I would imagine that right now you're feeling a mixture of horror, dismay, disgust, and the urge to commence litigation. I don't blame you. I'm not the Spoonbender, and it would be impossible for me to fill his large, fungicide-reeking shoes.

But if I am to even attempt such shoe-fillery, I know I will have to "turn it up a notch"--I must sharpen the razor of my wit until it cuts the very stone it is hewn upon. I must disregard the feelings of those less fortunate or educated or good-looking. I must suppress my compassion for the culturally-challenged. I must bury my empathy beneath layer upon layer of not-give-a-crapness. I must do this, as the Spoonbender has done before me, for the greater good of humanity, or at least that part of humanity which doesn't make me want to vomit.

And I am painfully aware that the slightest rhetorical rope to which I avail you people will quickly become my noose, and I will have become just another chunk of bloated carrion on the roadside of that inglorious boulevard known as guest-bloggery.

But rather than wait passively for this unhappy public scourging at your capable hands, I've decided to meet my fate head-on. Therefore, to save you the trouble, I've drafted the following template responses, which you may feel free to copy and paste into the comments, or customize them for maximum vitriol as you see fit, or simply type "Comment [A, B, C, etc.], Jerkoff!" into the appropriate field. If you pace yourself, you should be able to get through all of them by the 15th. Let's begin:
Each day until the return of the Spoonbender is as a thousand years--a thousand years of watching Walker, Texas Ranger next to a naked Chuck Norris on PCP.


I can't wait 'til you wrap this up like a douche, douche-bag. Hugs, [Reader].


Ian-you lick the sweat off a dead Robin Williams' career's balls. Love, Dad.


Your funny, dude. And no, I don't mean "you're" funny, Mr. Copy-Editing-Asshole, I literally am talking about your funny--as in, "What have you done with your funny, dude, since it certainly isn't here."


May the seven-headed Nameless Beast of a Thousand Fangs feast on the accursed blood of your eviscerated loins while your tormented soul walks in darkness and unending suffering for a thousand generations, Mr. Poopy-Diapers!


Each word you type is funnier than the next. Take my blog, please!


I haven't laughed this hard since I got malaria. Thanks for making me pine for those happy days on the toilet. Yours, [Mr./Mrs./Rev.] Schpilkes.


Hey buddy: This is so bad that I almost wish that I or any of the hundred other people whom the Spoonbender asked before asking you had accepted, rather than choosing to stand on the sidelines criticizing the fool who eventually said "yes." Good luck, jackass!


You make me want to go read that fat Jewish chick's blog. Go eat ass.
None of the above quite capture your sentiment? Feel free to modify them to incorporate the specific ethnic/education-level/sexual-orientation-based insult you have in mind, or craft your own from scratch.

In closing: while my regular readers know that I may be somewhat less eager to offend than the legendary bastard to whom this site owes its name, I feel I must add that in spite of my general good humor, if you mess with me, I'll skull-fuck your grannny's corpse. Let's have a fun couple of weeks, kids!


Ian @ 8:09 AM
Permalink |

-------------------------