Friday, April 29, 2005
I wasn't aware of the incident until today, but apparently a woman, Jennifer Bueno, was hit by a chair thrown by Texas Ranger reliever/great name-haver Frank Francisco. When it happened, there was some discussion that Francisco might have been moved to action by some hecklers, including Bueno's husband. Well, Mrs. Bueno has decided to file suit against Francisco, a couple of other Rangers, the Rangers organization, and the company providing security at the game.

Like I said, I really don't know anything about the incident. Generally speaking, I'm against hecklers. But I'm also against professional athletes throwing chairs into the stands, unless it's as part of a "Souvenir Chair Day" promotion. I don't really get why she's suing players other than Francisco, and I certainly don't think she should be suing the security company, unless they intimated that their agents will take a chair in the chest for the fans like the Secret Service are supposed to take a slug for the President.

But to be honest, I don't have some kind of absurd serio-comic take on the story that will leave you smiling and scratching your chin or genitals, as you do when you're deep in thought. I simply don't care about it that much.

All that said, I think this woman needs another chair to the face. The bottom line is that I just don't like the look of her.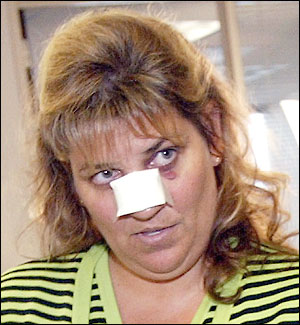 Sometimes one chair in the face isn't enough.
Analogcabin @ 10:21 AM
Permalink |
-------------------------

Thursday, April 28, 2005
Esteban Carpio is in a Rhode Island jail awaiting trial. He's accused of grabbing a cop's gun during an interview in a police station and killing him with it. That is to say, he's waiting to be convicted of first degree murder. He should be counting his lucky stars he made it out of the station without being raped with a plunger at the very least.

Recently, Esteban began chewing on the mattress in his cell and attempting to "swallow his blanket." Guards entered the cell, presumably to see if he wanted condiments. Esteban attacked them, breaking one's jaw and injuring several others. When he appeared in court to hear the new charges, this is what he looked like: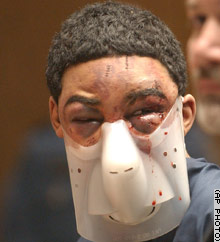 The police say he was injured when he jumped out of a third story window. The subtext of the picture, however, is pretty clear. He jumped out of that window and landed on a shitload of batons and tazers.
Analogcabin @ 9:58 AM
Permalink |
-------------------------

Wednesday, April 27, 2005
It shouldn't surprise anybody to hear that I'm not a big fan of our president. My reasons are manifold, and I'll spare you reiterating all of them. But if I'm anything, I'm relentlessly fair, so I feel the need to speak on George's behalf regarding his recent troubles getting traction for his social security plan.

Let me be clear: I'm not a big fan of his plan. But no matter your feelings on the matter, it's an actual, honest to god plan. That is to say, it's not totally insane. Yet it was a complete non-starter because he spoke the truth: There's no way around cutting some people's benefits.

Now he's out stumping for his energy policy which goes a little something like this:

First we're going to find a way to shoot crude oil out of our asses, and then we're going to convert our old military bases into refineries. After all, we're going to need them when the oil starts shooting out of our asses! Then we're going to find a way to make coal stop smoking, and then we're going to build some nukular plants. Also, I think we should start driving diesels again!

Because this plan has no basis in the reality, it will find broad support in both the House and Senate. It will also enjoy the backing of the American people.

Bush is an idiot and he says idiotic things most of the time. But we're bigger idiots because we demand idiocy from him, and we're pissed when he doesn't deliver.


Analogcabin @ 11:25 AM
Permalink |
-------------------------

I'll have words with anyone who dares make a "black people can't swim" joke about this tragedy.
Analogcabin @ 9:18 AM
Permalink |
-------------------------

Tuesday, April 26, 2005
Consider these headlines from CNN.com: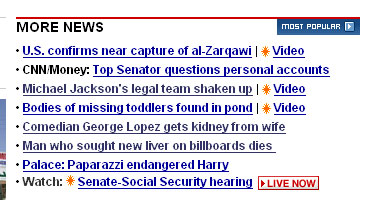 George Lopez, star of the hit television series Sanford and Son, receives a kidney donation from his wife. Meanwhile, some other guy who didn't star in anything died while waiting for a liver transplant. He'd been advertising for the liver on billboards and a website.

Sometimes the jokes just write themselves, don't they, God?
Analogcabin @ 8:40 AM
Permalink |
-------------------------

So conventional wisdom might not say that steroid use is the best way to get preteen girls into shape, but I'd point out that conventional wisdom also says that 9-year-old girls shouldn't be worried about getting hot, toned bods. And I think we all can agree that it's simply never too early to work toward a hot, toned bod.

That discussion aside, consider the first paragraph of the article, which is bolded:

An alarming number of American girls, some as young as 9, are using bodybuilding steroids -- not necessarily to get an edge on the playing field, but to get the toned, sculpted look of models and movie stars, experts say.

It seems to me that they're implying that we'd be less shocked if they were taking steroids to get an edge on the playing field; as though we all understand the demands placed upon 9-year-olds to deliver on the field hockey, ah, field, and so taking steroids for that purpose would be less shocking.

The bottom line is that I don't care why 9-year-old girls are on steroids, as long as they are.
Analogcabin @ 8:30 AM
Permalink |
-------------------------

Monday, April 25, 2005
Let's set aside that CNN's rascally headliners actually aped the Oscar Meyer commerical and inside focus on the fact that smuggling bologna isn't just for men's rooms in interstate rest stops anymore.

Sure, it's a funny little story, but consider these implications:

First, American standards for bologna, that least pure of processed roll meats, differ from those of Mexico significantly enough that only certain plants have been approved to export to the US. What I'm trying to get at is that we don't demand much from bologna; Mexico demands even less. Do they actually take doodies directly into the bologna machines there?

Second, bologna sells for "$7 or $8 a roll" in Mexico, and "three to four times that" in the US. It makes you wonder how they cut costs, and then consider again the first point. Can doodie be used to substitute for, say, the pig tails we use here in the US?

Third, the smuggler intended to sell it "at a flea market." That implies there's some demand for bologna at flea markets, which in turn implies that some American people buy their bologna at flea markets. Perhaps it's time to reconsider our fiscal priorities as a nation.

Fourth, that this happened at all says to me that Mexico is so horrible a place that a man is willing to set aside his pride, stuff bolognas into his suitcase, and try his luck in America. All is not lost.
Analogcabin @ 3:31 PM
Permalink |
-------------------------

Friday, April 22, 2005
You, my legion of fans, come to The Spoonbender for pants-wettingly hilarious satire of the news. And at least 70% of the time, I deliver. From time to time, though, I feel compelled to comment on the goings-on in this stupid motherfucking community we so irritatingly refer to as "The Blogosphere." Now I realize that most of you wish I wouldn't, but the bottom line is that I don't do this for you. If you want to get pandered to, go to...

[perfect segue]

...Gawker. As some of you know, I've been critical of Gawker Media head Nick Denton in the past. I've also had some things to say about the site's content and editors, especially Jessica Coen, because she's the one they publicize. More recently, I've had some thoughts about Mark "Uncle Grambo" Graham. And perhaps most memorably, I've weighed in on the always-hot topic that is Sarah "Ultragrrrl" Lewitinn.

I disclose all this not only because I think it's important you read all of the linked posts again, especially the one about Ultragrrrl because it's really funny, but also because I want to save you all the trouble of accusing me in the comments of bitterness or grudges against those who will once again find themselves the subject of my ire here. I am bitter and I hold grudges. That shouldn't be tremendously surprising if you've ever read this site.

The specific issue I want to address is the recent outing of the author of the Some Blogs Are Better Than Others site. For those of you who've been lucky enough to remain unaware of the situation, on Wednesday Gawker broke the story that the site's previously anonymous authoress was someone called Kasey Doshier. The first post was very thinly-veiled as an objective discussion of the accusations and the evidence supporting them, but all feigned objectivity was blown Thursday when they admitted it was their investigation, likely conducted in concert with the high-wattage brainpower behind Ultragrrrl, and called the Some Blogs site "an anti-semitic [sic] little hate blog." Uncle Grambo, always quick to rim a friend, did twice.

Now I really don't give a shit about this Kasey chick, her roommate, or James Stanford. And while I appreciated the impetus behind Some Blogs, I always felt as though there was a certain artlessness to its attacks. My problem is that Gawker and the gaggle of trust-funded Sex in the City wannabes that run it intimate throughout the two posts that there's some kind of looming legal action against the site, perhaps involving the Anti-Defamation League or some libel lawyers. Now I doubt this assertion almost as much as I doubt the investigative abilities of the Gawker staff, but one never knows.

The bottom line here is that whoever wrote the Some Blogs thing committed one crime: Making fun of the blog clique we all know and loathe. These people don't care about anti-Semitism -- it wouldn't take long to find a litany of links to sites filled with far more racially charged content than on Some Blogs, mine included. And they certainly don't care about libelling anyone, that is beyond maintaining whatever "gossip reporting" facade on which Denton's lawyers insist.

I don't care that Ultragrrrl and Coen and whoever else tracked down the author of that site, and I don't care that they outed her. I don't care that they called her anti-Semitic, and I don't care that Grambo called her fat. What bothers me is that they're so willing to raise the spectre of lawsuits and chase somebody offline just because they don't like being called names, and that, when they succeed, they act as though they've really accomplished something.

I wonder what they'll say when Paris Hilton or Tina Brown or The New York Times threatens them with the same, and they have no choice but to cease publication because Denton's legal fund isn't quite as large as his head.
Analogcabin @ 10:11 AM
Permalink |
-------------------------

Thursday, April 21, 2005
I'm not one to make jokes about the racial stereotypes about penis size.

In case you don't know which stereotypes I'm talking about, they are the ones that say that Irish men, for example, have small penises, or that Jewish men have thick penises. Or that black men have huge donkey penises, Asian men have hairless baby penises, and Swedish men have penises which are corkscrewed like that of a pig.

I don't say these things not because I do not know, in my heart of hearts, that they are true, but because I believe we should focus on the things that are true about us all -- that we love, and we struggle, and we hope, and we dream, that we eat, and we breathe, and we stand in awe of nature, that we want to have anal more frequently than we do, and that we wonder what our coworkers' boobs look like.

Unfortunately, not all of us are as high-minded as I am. Take the Chinee for example. They recently rejoiced at the results of a Hong Kong study which found that, according to the article "Chinese men have no reason to feel inferior about the size of their penises." The penis specifics were (rounded to the nearest tenth of an inch:

Italians: 3.5
Americans: 3.5
Chinese: 3.4
Germans: 3.4
Israelis: 3.2
Turks: 3.1
Filipinos: 2.9

Apparently, there were unable to find in instrument suitable to measure, say, Nigerians. That unfortunate oversight aside, the study has one major fucking flaw. Again, to quote the article:

The study did not measure the penises when they were erect.

Do you measure a person's height when they're sitting down? Of course you don't. And does the caliber of a gun mean anything when it's not loaded? You bet your tiny Filipino prick it doesn't.
Analogcabin @ 9:00 AM
Permalink |
-------------------------

Wednesday, April 20, 2005
President Bush signed the much-discussed bankruptcy reform bill today. The law, which takes effect in six months, will make it tougher for individuals to file under Chapter 7 of the bankruptcy code. In a Chapter 7 bankruptcy, the courts liquidate the majority of a debtor's assets and the proceeds go to his creditors. The single largest proponent of the bankruptcy reform bill is the credit card industry, which stands to receive as much as one billion dollars from those stupid enough to take advantage of credit that shouldn't have been extended to them in the first place.

Suppose there's a pit full of, I don't know, vicious muskrats. And further suppose somewhere in that pit there's a five dollar bill. What do you do if your obnoxious, already sickeningly wealthy neighbor insists on going into the pit in search of the fiver, then complains to you that he's getting bit? Do you shoot the muskrats or do you, like, tell the neighbor to stop acting like a fucking idiot?

Meanwhile, the paler, better-bred Americans will continue to enjoy immunity from any of the negative consequences of dubious borrowing, as President Bush well knows.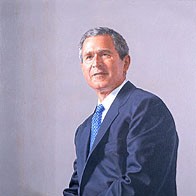 Analogcabin @ 3:08 PM
Permalink |
-------------------------

Tuesday, April 19, 2005
The Catholic Church is normally an easy target for satire. There's the backwardness, the taste for boy ass, the knack for turning girls into prodigious if guilt-plagued cockgobblers. But when they actually choose a Nazi to be Pope, there's not really anything left to say.

Nothing, that is, except that it says a lot about the last guy when the first three things that came to mind when I saw this one were "bright-eyed," "spry," and "healthy."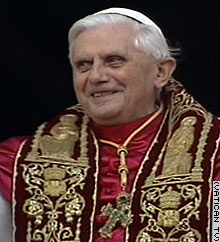 Analogcabin @ 3:32 PM
Permalink |
-------------------------

Matthew Tobey makes me laugh when he does the thing where it's Raztenberger instead of Ratzinger.
Analogcabin @ 3:05 PM
Permalink |
-------------------------

To be honest, I normally don't find other people's feelings compelling. They lack a certain me-ness that mine have. But for some reason I was moved by the author of WULAD's rage disguised as pride cloaked as self-mocking shame at the revelation he'd been plagiarized on a Star Wars message board.

We'll set aside for a moment that this means at least two of his readers also read a Star Wars message board just as I set aside his request no one contact the offending rapscallion directly when I wrote the below email.

TO: WULAD Plagiarist
FROM: A Pseudonym I Used To Conceal Any Involvement in Such a Stupid Thing
SUBJECT: Wow
I suppose it's possible to get lower than plagiarizing a blog post on a fucking Star Wars message board, but I'm not totally sure how.

Nice one, you fucking loser.
Analogcabin @ 9:10 AM
Permalink |
-------------------------

Monday, April 18, 2005
I know what you're thinking about this: Great. A bunch of sheltered suburban Marxists get all fired up watching The Motorcycle Diaries and decide to go on a hunger strike for the cafeteria lunch ladies when what they really need is to pay more attention in Macroeconomics. What's the upside?

I'll tell you the upside: They're staying thin.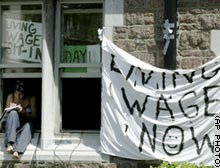 Staying thin, by any means necessary.
Analogcabin @ 11:50 AM
Permalink |
-------------------------

Friday, April 15, 2005
"Hi. My name's Alex Rodriguez. My job is playing baseball for perennial pennant contenders the New York Yankees. I'll get paid about $25 million this year to do it. My wife, Cynthia, is attractive. She's also a high school teacher, which means she's in favor of education and isn't materialistic. We've been dating since high school. Overall, I'd say that things are going my way."

"Oh, yeah. I forgot to mention that I just saved a little boy's life in the hometown of our hated rivals, the Boston Red Sox."

We flawed and speckled mortals have one consolation: That, in the article, A Rod describes the incident as "a train wreck waiting to happen," which is obviously very stupid, as it was a large truck from which he saved the boy.
Analogcabin @ 1:46 PM
Permalink |
-------------------------

Thursday, April 14, 2005
I feel fairly certain that a good number of you listen to NPR's Morning Edition, but that doesn't mean you should start nodding and raising your hand like you're in the front row of an eighth grade science class and I just asked what osmosis is. Just sip your green tea and be still. It's my turn now, because today I found myself listening to Morning Edition. And as you might have guessed, something beyond the usual speech impediments and light jazz bumpers bothered me.

About once an hour, my local affiliate runs listener opinion pieces called "Perspectives" during the NPR station breaks. This morning the piece was written and read by some chalk boring San Francisco schoolteacher named Richard Swerdlow who, rain or shine, walks to work. His walk is 15 minutes each way, and he went on for what seemed like 50 about how every day's journey was new and filled with glorious discovery. He boasted about how he was getting good exercise, saving money, reducing traffic and parking congestion, and polluting nothing more than our ears with his self-righteousness.

Lest you become jealous that I was able to enjoy his thoughts, here is Richard's "Perspective." Listen now. I sat through it, so I'm confident I can wait for you.

Now as you've just heard, KQED's policy is to disclaim that each "Perspective" does not represent the views of NPR, KQED, or anybody else. It's a sensible policy, I suppose, were the "Perspectives" ever anything more than utter pablum. But they never are. Every time I hear a "Perspective," it's something like Richard's -- that we should walk more, read more, vote more, enjoy nature more, use our turn signals more, that we be less selfish lovers, that we enjoy a balanced diet and discourage violent crime, or that we should educate children -- ours and all others.

It's this kind of spineless ninnyism that gives NPR the reputation of being a platform for spineless ninnies. Give me a "Perspective" on why we should walk to work with our penises out and I'll listen, because that's a unique perspective and, frankly, very worthy of consideration.
Analogcabin @ 10:46 AM
Permalink |
-------------------------

Wednesday, April 13, 2005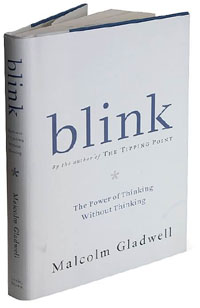 You know what's funny? It only took me a second to know that I was never going to read this book.
Analogcabin @ 3:49 PM
Permalink |
-------------------------

It's easy to say that trading your 14-year-old daughter for a car is wrong, but you've got to consider the circumstances.

The woman at the center of the controversy was living in her car with her two daughters, ages 11 and 14. Now I don't have to tell you how hard it is to make ends meet, what with all the outsourcing to China and everything, so the mother sometimes traded sex for food and showers. Being a single parent is hard, so who could blame her for asking her kids to chip in with the chores and the blowjobs and what not. The 11-year-old was a little trooper and obliged, but the 14-year-old wouldn't do anybody. Teenagers. So when some man offered a car in exchange for the older child, what choice did the mother have but to take the deal? It was a Mercury Cougar, after all.

According to the article:

[The man] never gave the mother the vehicle. He was arrested in the case.

It's unclear whether he was arrested for breach of the verbal contract to give the woman the car or for practicing slavery.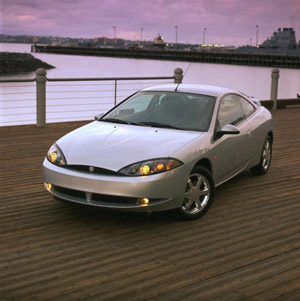 The Mercury Cougar, above, is worth at least one relatively healthy white girl under 16. Driver's side airbags are standard.
Analogcabin @ 8:37 AM
Permalink |
-------------------------

Tuesday, April 12, 2005
This morning I read that Timu, the world's first test tube gorilla, is not bonding with her newborn. Sad, right? Then I saw a picture of the newborn and couldn't help but wondering if the secret ingredient in that test tube was taste. That baby ugly! I wouldn't bond with it, either. The thing looks like a hairy turd in a blanket. Or like a slightly darker Charlie O'Connell, TV's The Bachelor.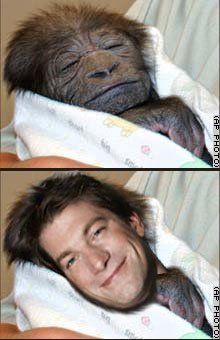 Timu the test tube gorilla's foresaken offspring, above, and Charlie O'Connell, below, shown swaddled by surrogates.
Analogcabin @ 9:10 AM
Permalink |
-------------------------

Monday, April 11, 2005
Rather than be spiritually and emotionally caught in the awful mire that is the media coverage of the Michael Jackson trial, I've chosen to learn from it. And, as always, when I learn, you learn, albeit much more slowly.

Lesson #1: If a 40-year-old man cries and shakes while begging you to allow him to sleep in a bed with your 13-year-old son, punch him in the fucking jaw.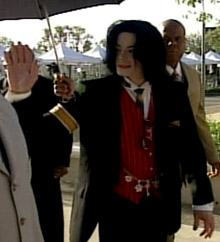 Analogcabin @ 2:32 PM
Permalink |
-------------------------

Friday, April 08, 2005
Regular readers know that I'm as big a fan of CNN.com's entertainment section as anyone, which, I suppose, doesn't make me much of a fan. But my fandom doesn't mean that from time to time I don't feel compelled to point out when I think a massively stupid statement is printed therein. Well, lucky for you, today's one of those times and the opener of Joshua Lev's catchily titled "The Guilty Pleasure of Charmed" is one of those massively stupid statements. Quoth Lev:

As an openly confessed Buffy, Friends, and Alias-aholic, I take pride in getting into shows that probe new ground, have top-notch writing and offer surprising depth.

OK. Let's for a moment put aside the shocking amount of gayery packed into that single sentence -- the "openly confessed" "pride," the "getting into" and "prob[ing]," not to mention the shows themselves. I say we should put that aside because I am not homophobic, but I know you assholes are. Anyway, the thing that really gets my goat about the sentence is the outrageous assumption that we all agree and recognize that Buffy, Friends, and Alias are well-written shows that probe new ground and offer any depth whatsoever.

Friends. Alias. And Buffy theMotherfucking Vampire Slayer.

Seriously, are these what now pass for well-written television shows? And new ground? I can give Lev Buffy, I guess, but new ground to what end? I mean, suppose Colombus had discovered not America but a giant, stinking heap of moldering refuse. Would this new ground have warranted congratulations? Depth is the most outrageous of Lev's claims. If you feel as though any of these shows warrant further, deeper examination, you are either retarded, stoned, or in pursuit of a Ph. D. in some totally bogus area of area of academic inquiry and to admit otherwise would jeopardize that job lead you've got teaching English 100 at Doucheville Community College.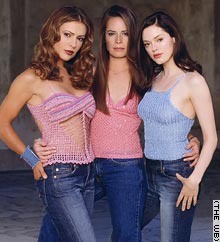 The cast of Charmed, above, is not without a certain je ne sais boob, though calling them deep may be a bit optimistic
Analogcabin @ 11:58 AM
Permalink |
-------------------------

Thursday, April 07, 2005
There are many signs that spring has, as they so folksily say, sprung. I will, heretofore, list these signs for you, my stupid, stupid readers:

1) Birds, those good-hearted rascals of the air, begin to sing their horny, lyricless tunes.

2) Flowers, those delightfully stupid creatures, bud and bloom, filling your eyes with glorious and sometimes obnoxious colors and your nose with allergins.

3) Commuters, those desperate and regretful misanthropes, roll their windows down, making for hastily aborted singalongs and awkward sidelong glances in lines of stopped traffic.

4) College girls, those paragons of all that is beautiful and right and fair in this horrible, stinky world, are compelled by hormone, air temperature, and, God save it for all time, the Delia's catalog to unsheathe their winter pale but nonetheless engorged secondary sex characteristics.

5) Everyone with a clock sets it ahead one hour.

This last bit is cleverly known as "springing ahead" into a highly theoretical state of being known as Daylight Savings Time. Now I'm not entirely certain, but I suspect the origins of Daylight Savings Time are in those days when our nation's nascent economy was agrarian. Like I said, I'm not sure, but it makes sense to me. A farmer's crops would, after all, benefit from longer growing days. But surely even crops and old time farmers were not stupid enough to believe that the time on the clock on the wall has anything to do with the length of time the sun stays above the horizon.

In any case, Daylight Savings Time doesn't matter much now that our food is all created by computer.

So it was for good reason that I rejoiced upon hearing the news that Congress is considering extending Daylight Savings Time by two months.

I know what you're thinking. But you just used way more words than necessary to explain why you don't like DST, or Daylight Savings Time. What gives?

You really are as stupid as everyone says, aren't you? DST is a state of mind, motherfucker. Forget about Standard vs. Daylight. It's whatever time we say it is. My excitement is that we as a nation appear to be moving toward a system I invented, have long supported, and like to call "One Nation, One Time: Party Time."

I know what you're thinking again. Sounds fucking awesome, but what's so great about Party Time other than the name and slogan and that you invented it?

How's 1,200,000 barrels of oil sound to you? That's right: Pretty fucking sweet.

Congress is considering the move because a Transportation Department study suggested that the extension of DST would save the nation 10,000/day in energy costs. But why stop at an 8 month energy savings, when we could sock that shit away 12 months a year?

I still know what you're thinking. But what do we do with all that extra oil?

We party, because it's Party Time.
Analogcabin @ 9:19 AM
Permalink |
-------------------------

Wednesday, April 06, 2005
Nick Denton and his gang of whores don't do it again.

"You know the internet? Let's make it annoyinger."
Analogcabin @ 4:00 PM
Permalink |
-------------------------

I'm a day late on this, but when it comes to kissing cousins, you know what they say: "Better late than unrelated."

I know what you're thinking. Incest is a hot topic. And by hot I mean both heated and sexually exciting to me, because I'm a morally indigent fucking sicko. I can't wait to hear what The Spoonbender has to say about it, because the combination of his remarkable prose and stunning brilliance is sure to set me to sail toward shores of dreamy delicium, and along the way I just might get wet.

And how.

But first, some background. The story is nominally the tale of Donald W. Andrews Sr. and Eleanore Amrhein -- kissing cousins whose "deeper love" and desire to wed drove them all the way from their home state of Pennsylvania to America's infamous Gomorrah, Maryland, where it is legal to marry your cousin. It is a merry land, indeed.

Now none of this is what I'd consider news, really, but that doesn't seem to concern whichever AP flunky penned the piece. To him, the Andrews-Amrhein' story serves as an excuse to do three things. The first is to shock us with the fact that marrying one's cousin is legal in 26 states. That means you can get familiar with those who are most familiar in more than half of our country. Sweet release! The writer also shares with us the results of a genetics study that found that the offspring of first cousins only have an approximately 2% greater chance of birth defects than that of an unrelated couple. As stated, the modest number is the resounding yes to the subtextual question running through the article: Is banging your hot cousin worth the gamble?

Finally, and I think most hilariously, the author uses the opportunity to interview the head of Cousins United to Defeat Discriminating Laws through Education. It's an organization working toward the abolishment of laws banning marriage between cousins, and its acronym is CUDDLE -- the comedy coup de grace of the piece, though the author doesn't make that explicit.

While I think we all can agree with the AP writer that it's fun to laugh at people who marry their cousins, there's a real issue to be discussed here. More than half of the states in this country allow cousins to marry, and more than half of the states in the country are seriously considering bans on gay marriage. I'm no expert, but I'm fairly certain breeding with blood relatives is discouraged in the bible roughly as heartily in as is homosexuality.

In the end, marriage is and should remain a religious or cultural ceremony, and the state should neither ban or sanction it. If you want to marry your gay brother, that's fine by me, you sick homo loser.
Analogcabin @ 1:42 PM
Permalink |
-------------------------

Tuesday, April 05, 2005
My beloved dog spent much of the night vomiting yellowish white foam until eventually outing about two pints of thick, brown, vile-smelling dog sickness. As a result, I have not the energy or demeanor for dealing with you idiots.

Because I am great, however, I will give you this and wonder to you how much one needs to drink in order to need a liver transplant at ten-months-old, and from your trashy grandmother, no less.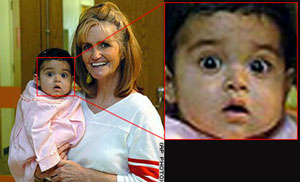 Liver recipient Alondra Martinez, left, and donor grandmother, center. Inset right, Martinez in detail, clearly very drunk.
Analogcabin @ 2:44 PM
Permalink |
-------------------------

Monday, April 04, 2005
The passing of Pope John Paul II this weekend left a void inside of me that even Hot Pockets could not fill. And in that, I know I speak for everyone in the world. The Pope is God's Own Answer Man, and without him, my mind filled with questions. Is it a damnable offense to watch The Starlet during the official papal mourning period? When there's a new pope, will he take a stand on anal? If the pope isn't immortal and cannot fly, is there any hope for me? By this morning, however, I accepted that no answers will come, for God has forsaken us all and left us to salvage what's left of His rotting garden.

Instead of railing against God, who clearly doesn't listen, I've chosen to focus my frustration and anger on a blind doctor.

Now before you all start in with your, He's not handicapped, being blind's practically a superpower! bullshit, let me say that I have nothing against blind people. And trust me, if I did, I wouldn't hesitate to write it here. After all, it's not like they're going to see it. Only those of you who can honestly say that they'd go to him for their health care needs can judge me. And I'm not talking about just for a routine prostate exam or something, I mean for something really frightening. Just imagine:

YOU: So does it look normal, doc?

DR. BLINDY: Does what look normal?

YOU: This thing on my sternum! It's kind of a weird color....

DR. BLINDY: What's "color?"

Let's put aside for a moment that I think he'll have problems attracting patients, and not only because he's probably unfamiliar with the concept of a sign. And it's not that I'm saying that a blind person completing medical school isn't admirable. It is. He's clearly very driven for a blind person. What irks me is that he did it with lots of high tech help. Consider this excerpt from the article:

He used a variety of special tools, including raised line drawings, a computer that simultaneously reads into his earpiece whatever he types, a visual describer, a portable printer that allowed him to write notes for patient charts, and a device called an Optacon that has a small camera with vibrating pins that help his fingers feel images.

You know, I'd bet that I could triumphantly overcome the myriad challenges of medical school with the help of "a variety of special tools," as well. Say, an actual doctor to, like, whisper the answers in my ear and to guide my hand as I examined whatever pelvises needed examining. Or a stethoscope that tells me when to operate.

Of course I'm using a bit of the old reductio ad absurdum, and that's never fair, so let me argue my point another way. We've all heard a lot about Ray Charles recently. He mastered piano and tap dance despite his blindness, and we all benefited. The difference between Old No Eyes, as he was called, and this doctor is that he mastered the same piano that a sighted person would use, were they so inclined. It wasn't one of those player pianos with the Braille sheet music, it was a real piano. The bottom line is that Ray came, didn't see, and he conquered. The same goes for that creepy "Angel Eyes" guitar player guy and Lance Armstrong.

In closing, I leave you with the following question: Aren't health care costs high enough? Do we have to start buying computers so the blind can charge us out the ass for a papsmear, too?
Analogcabin @ 1:13 AM
Permalink |
-------------------------

Friday, April 01, 2005
Colorado Governor Bill Owens apologized today for using the phrase, "the natives are getting restless" during a conference on tribal gambling. Apropos, perhaps, but taken badly by some attendees who, before day's end, were calling for Owens' scalp.

"I'm very sorry. How sorry? Sorrier than a paddy at last call," said Owens. "I'm sorrier than an uppity negro on the whipping post."

"I'm more sorry than a bankrupt Jew," continued Owens. "or my wife when she overcooks the chicken again."

"Am I sorry? Is the Pope Catholic?" said Owens in his statement. "Of course he's Catholic, that mumbly, dying bastard."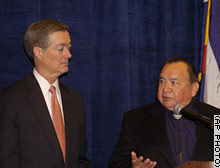 Governor Bill Owens, left, apologizes to injun chief Tonto Redskin or whatever by presenting him with some shiny beads. The Chief accepted the apology and offered his two daughters and 113 acres outside of Boulder as a goodwill gesture.
Analogcabin @ 1:59 PM
Permalink |
-------------------------